As Above
** Fashion Film Currently On Festival Tour **
When your Earth Plane feels a strong sense of pull, setting in motion an enigmatic chase through a maze of dimensional time sparking an orgasm into enlightenment.
Loosely based on the 2nd Law of the Universe; The Principle of Correspondence, "As Above" tells the story of The Earth Plane returning home, to find herself intuitively drawn to a presence she can't ignore. Alone, The Earth Plane follows her instincts through a twisty windy hallway looking to connect an alluring call to her.
AGENCY  Gee/Spot Cine
DIRECTOR / EDITOR  Sewra G Kidane
"As Above" and "Proclamation Punctuation" are streaming exclusively on kweliTV, a Black-Owned streaming platform playing award-winning films from filmmakers of the African Diaspora!!!
CAST & CREW
FEATURING  Nazlah Black, Lyfe Silva, Iman Artwell-Freeman
FASHION EDITOR  Chandra Moore
HAIR / MUA  Jey Belle
CINEMATOGRAPHER  Michael Cooke
ORIGINAL COMPOSITION  Alexia Riner
EXECUTIVE PRODUCER Lazelle F Williams
PRODUCER Sewra G Kidane
1ST ASSISTANT CAMERA Phoenixx Flix
2ND ASSISTANT CAMERA Azuree Lyman
GRIP Jamal Solomon
BEST BOY Kodi Perryman
WARDROBE ASSISTANT Sam Felton
HAIR & MU ASSISTANT Juelle Dixson
NAIL DESIGN Free Edge Beauty Studio
MASTER BARBER Greg Purnell
PRODUCTION ASSISTANT/ VIDEOGRAPHER Dana Bingham-Guanilo
STILL PHOTOGRAPHER Beth Brown
CREATIVE CONSULTANT Rod Gailes OBC
COLOR GRADE Eric Alvarado
SOUND DESIGN / MIXING Cory Choy / Silver Sound NYC
ART DIRECTION Sewra G Kidane
GRAPHIC DESIGN Sara Yonis / AGNCY Creative
ADDITIONAL ART DIRECTION James Meade
ANIMATION Tewodross Melchishua Williams
CONCEPT & STORY IDEA Sewra G Kidane
FEATURING EXCLUSIVELY CUSTOM MADE JEWELRY BY
Lorraine West Jewelry
DIVINITY KIMONO EXCLUSIVELY CUSTOM MADE BY
Anitra Michelle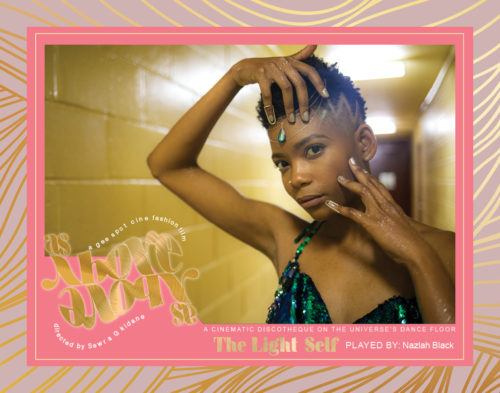 AWARDS & NOMINATIONS

2019 / Sarajevo Fashion Film Festival / NOMINATED / Best Director
2019 / Silicon Valley African Film Festival / Diaspora Achievement in Narrative Short
2020 / Hollywood Art & Movie Awards / FINALIST Best Composition
2020 / The Taste Awards / Style Maker Award
ON SET: As Above... A Cinematic Discotheque On The Universe's Dance Floor
A behind scenes look at the making of "As Above"